TLDR; I'm currently enjoying Under Armour Hovr Guardian as my daily shoe 👟 😉
Shoes are like our buddy, they go with me every where I walk. Since I'm spending big time walking, day in, day out, having a comfort shoe is a must!
This post is about how I learn to understand which shoe fits my feet, as a normal human who is non-runner. The experience written here is my personal thoughts, so, read it at your own risks 😉.
In 2016, I chanced upon a sale after church in the Star Vista. I bought a pair of shoe out of random without researching its brand or specs, simply because when I tried it, it felt better, softer compared to a pair of Nike shoe that I bought in Bangkok.
Today, that pair of shoe looks like this picture … fully utilised 😐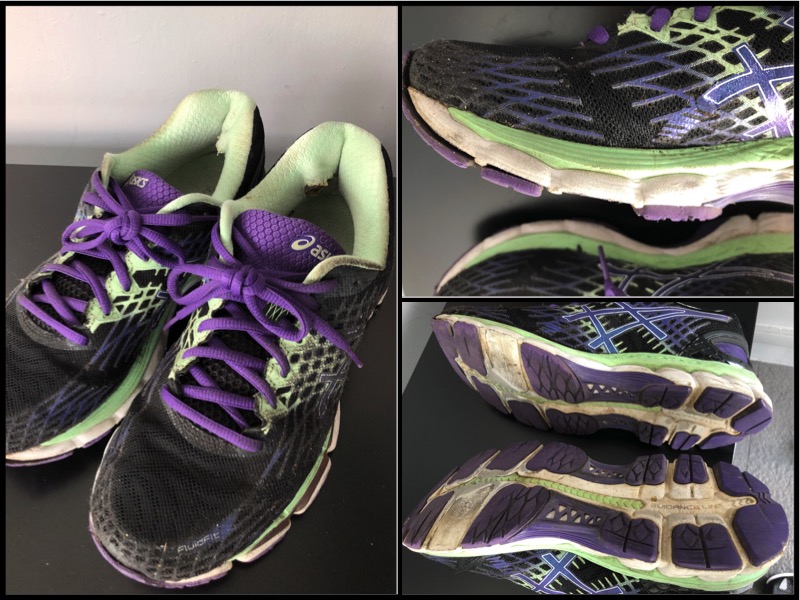 Recently, I learn that this shoe is called Asics Gel Nimbus 17 (probably on sale in early 2016).
It is really good to the point, I don't even look for any other shoes. I have other shoe models bought for other functions, which I will share more details later, but generally, I only use 2 pairs of shoe for every thing. One for daily, casual walk and this one for jog.
And this is the state of that casual shoe. Not perfect but again, it's very comfortable. This is called Hush Puppies Cloud Walker. The model is no longer on sale too.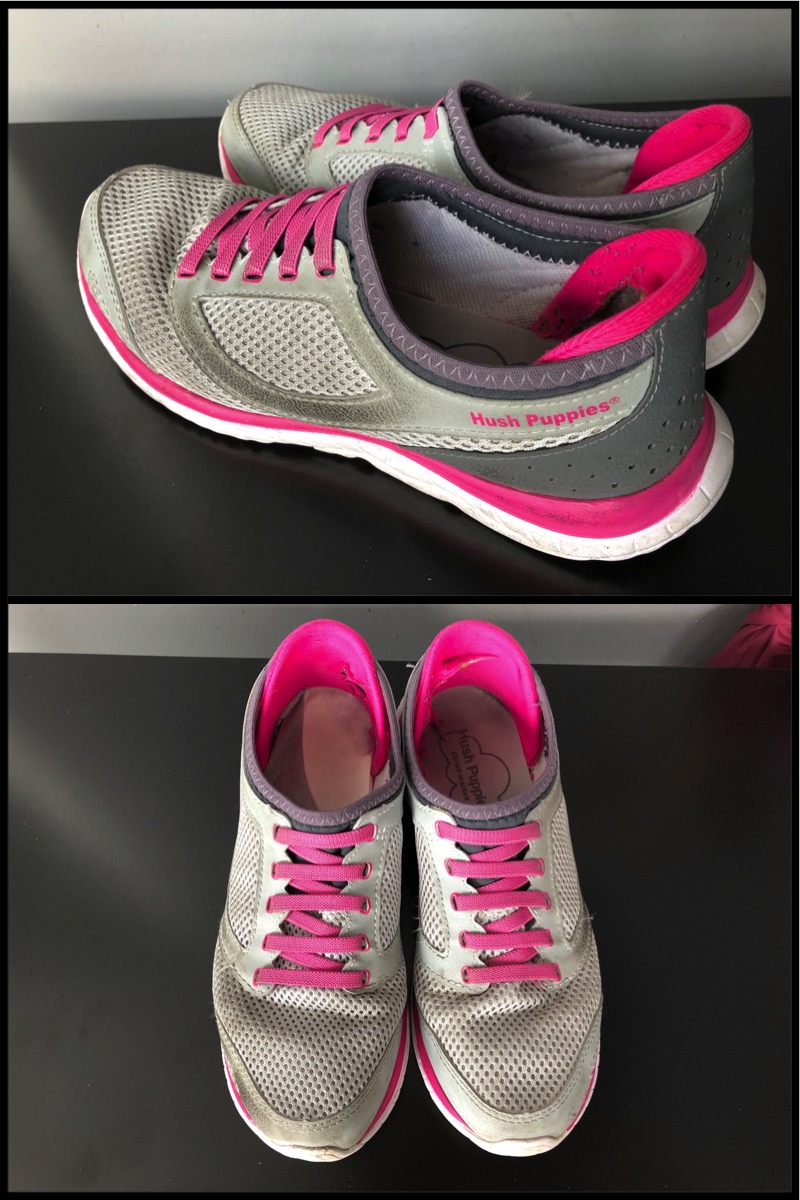 Before this shoe, there's one model that I love the most that I had used five pairs of them. It's a simple, plain Crocs Canvas Hover Lace-up Sneaker. The best thing is that it is super light. I'd buy those colorful silicone clips to spare me some tie-free time every day. The weakness however, given daily usage, the outer sole will be flat quickly, making it slightly dangerous when you walk on slippery ground. Almost all my photos from 2013, would have this shoe appears in red, grey, black color. I really wish that Crocs remake this model.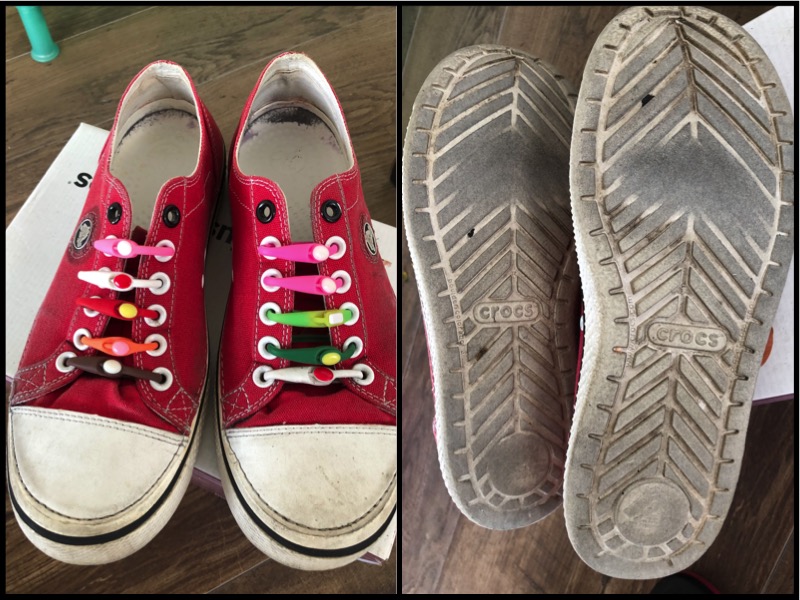 So, the search for new shoes began. I decided that both shoes are still very very usable and functional, so, I won't change it until I find shoes that are on par!
I observe what are commuters on the train wear. In Singapore, people from all age buys branded sport shoes. Brands like Nike, Adidas, Reebook, Asics are very common, and likely seen.
I ask around the office colleagues too. Their answers are mostly, Adidas for comfort. So I went shops to try. I check flagship stores but my priority is always outlet store. I'm a budget-conscious buyer 😂.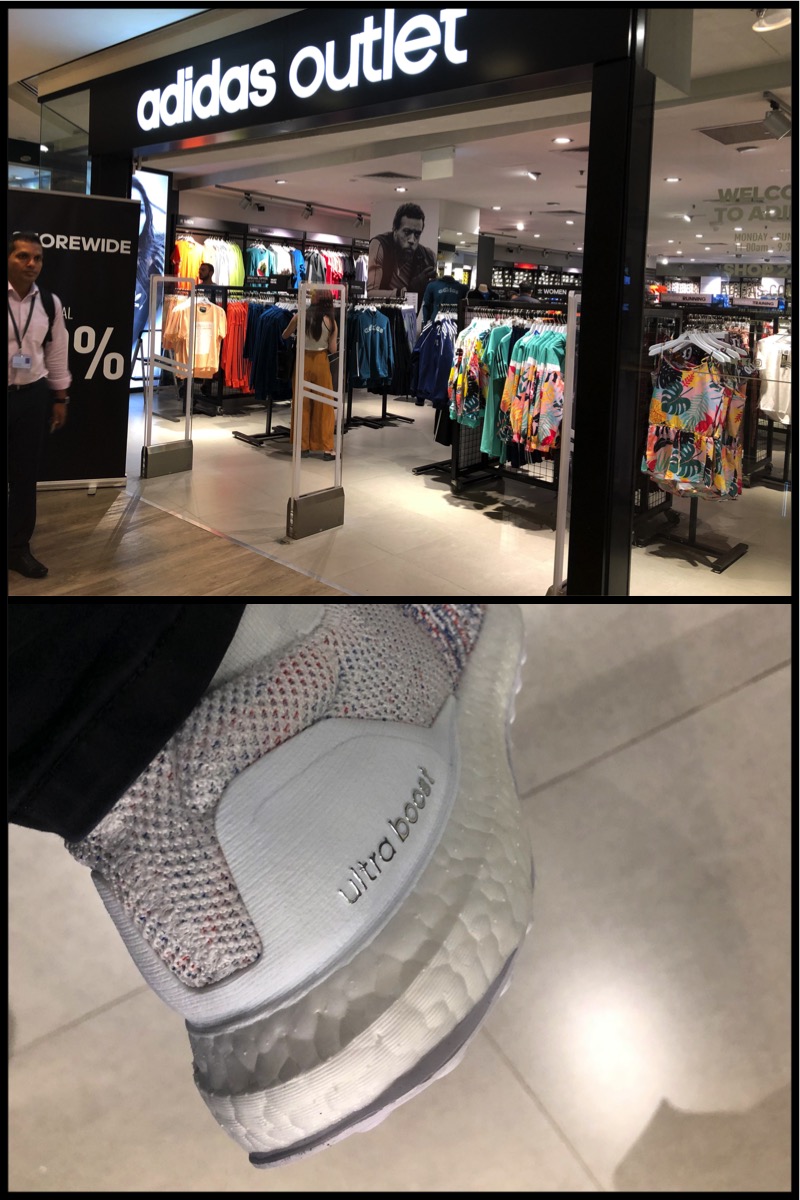 No joke, it's expensive and weird feeling! Like my feet are wider than the sole. I couldn't understand why is this Adidas Ultraboost is so over priced at $300, or even still above $200 after discount.
At the same mall called Velocity Novena, this shop Liv Activ was running a promotion for The North Face shoes and my eyes landed on their model called Ampezzo. Whn I tried it, it's so comfort and good grip. This brand is indeed, famous for their hiking and trail shoes. And this model is, according to the staff, has extra cushioning. So … 💸 let me have it!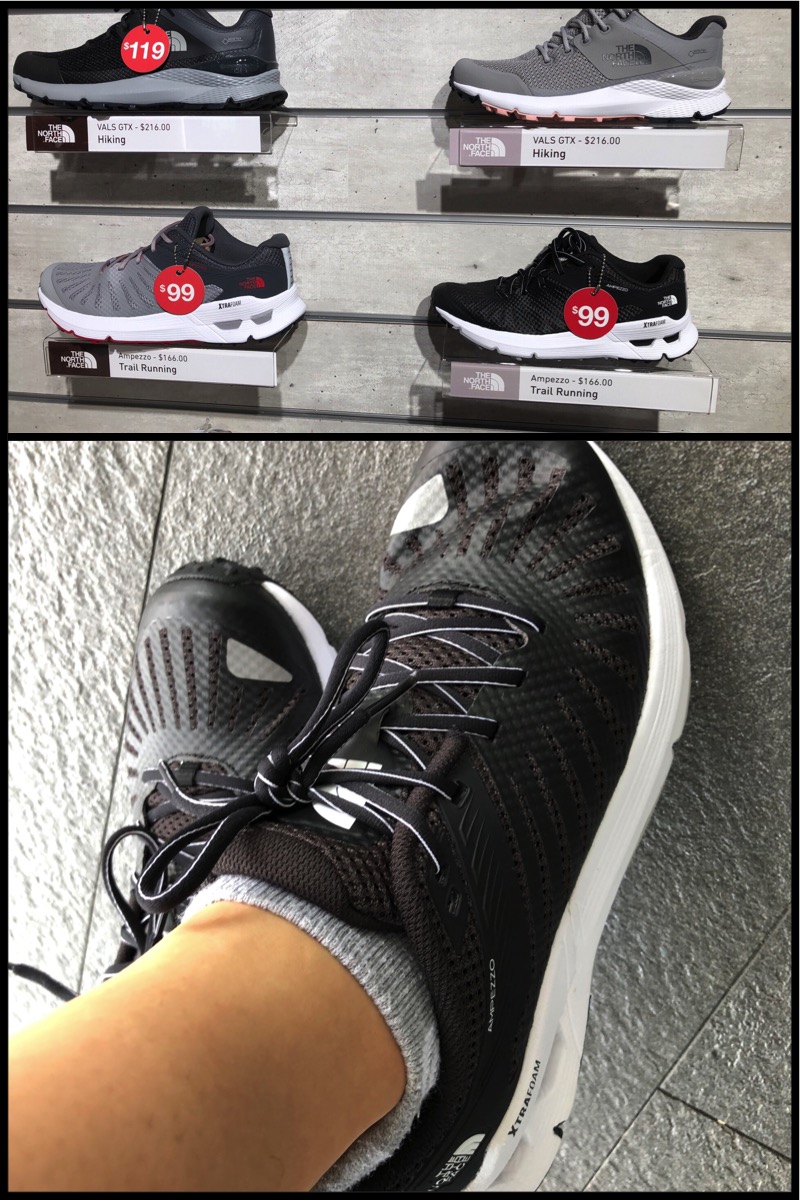 I wore it for a few weeks and notice that … my steps don't feel like really touching the ground. Compare it with Nimbus, my feet would really walk on the ground 😶. So why? turns out that the outsole pattern seems to matter a lot! This Ampezzo is designed more like trails, uneven grounds like rocks, jungle, etc. So, I thought that I really want something like Nimbus.
I hunted almost all online channel like Lazada, Shopee, eBay, Carousell. Yet, buying online is very risky. In the mean time, I also keep patronising Asics flagship store trying the newer models. However, since Nimbus 18, the shoes are getting firmer.
Gel Nimbus 21 the most recent model is too firm for me. I hunted an old shop at Peninsula plaza, in which, they even still have Nimbus 15! But the price is still above 200!
So, I decided to visit Jurong IMM where all the sports factory outlet shops are. One by one … again, Asics, The North Face, Adidas, Nike, Hush Puppies, you name it … as I'm exploring, I keep reading sites that review shoes. Here are some of them, with my comments added:
There is even a YouTube video by The Sneaker Chop where they cut Gel Kayano 21 and show you how small … yes, how small, the gels are … after watching this video, I was like 🤨… feeling cheated, perhaps? Don't be, check out the gel's comparison with other shoes in this video. Kayano is actually better than Saucony (unknown type).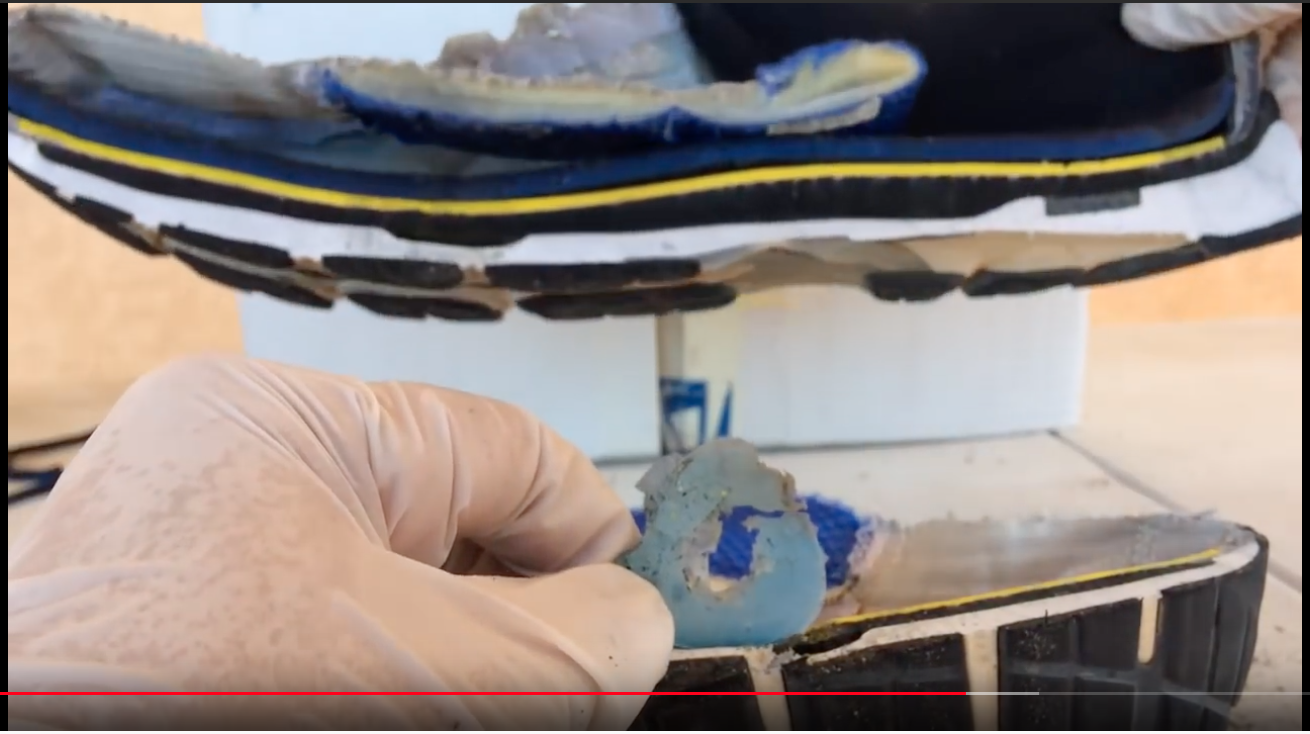 In one of experiences chatting with Asics staff in Plaza Singapura, he asked to see my outer sole. A healthy feet, should have the outer edges part that's thinning according to him. I also learn that Gel Nimbus model has gels on the heel and midsole part, and suitable for feet with arches. While Gel Kayano (dubbed to be highly favorite among runners) only has gel on the heel. GT-2000 is suitable for flat feet. Metaride however, is the more expensive model to go head to head with Nike's expensive range. Cumulus in the other hand, is in my opinion, the reduced-comfort type of Nimbus, yet I can't really differentiate Cumulus and Kayano.
Asics shoe, apparently has wide and normal fore foot type. And after trying almost all of their type, I told myself: enough! None of Asics shoes really fit me 😤.
Hence the search for other brands intensified. I tried Nike, however, it's no surprise that none … none of their range meet my expectation. Neither New Balance nor Puma. There's a model I really like: Brooks GTS 19! Its cushion feels really good, but it's over $150.
And in short, I landed at Under Armor and they're having a good deal, Hovr Infinite and Hovr Guardian, both with Bluetooth connectivity 😮! Being a geek, I had no idea that shoes nowadays, is also an IoT!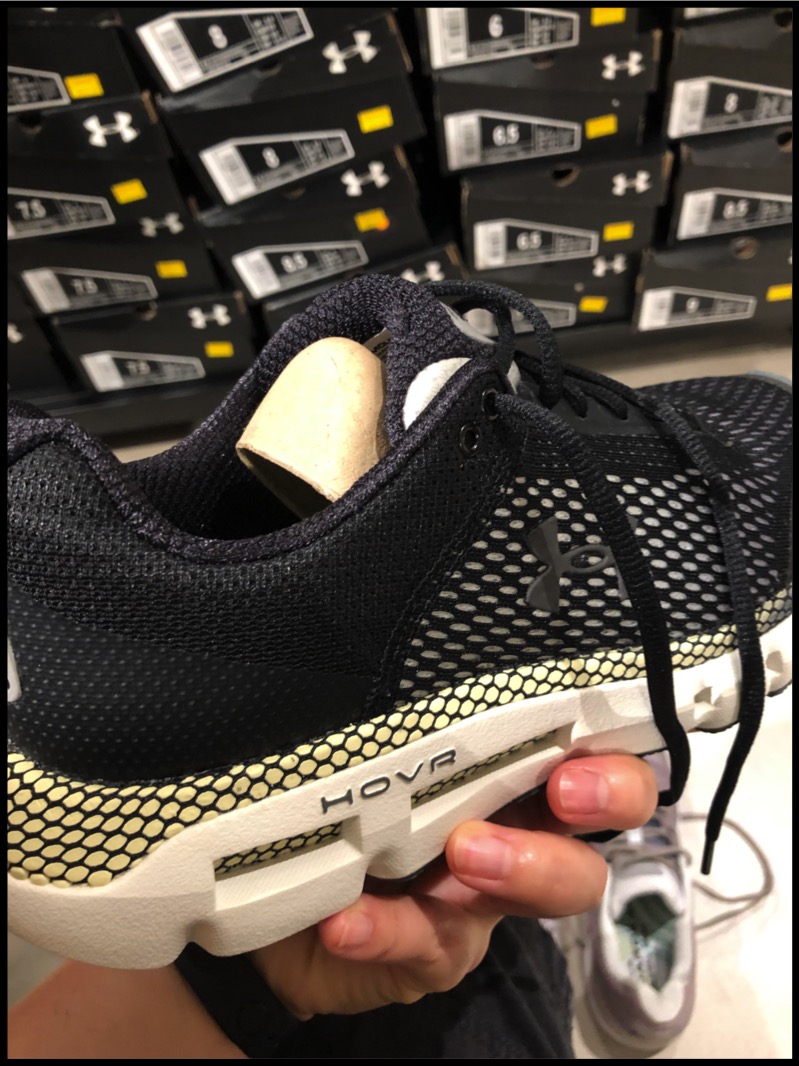 I needed to wear a thick sock so that it buffers the size-fit-ness. Contrary to Guardian's score (79) on SoleReview, the midsole and comfort feel good while Infinity feels slightly thicker. But they are better than Sonic or Charged Bandit, the awarded best for runner. Additionally, I like Guardian's color better! I was soo excited when I found these two!
The fact that this model was being discounted heavily, I am quite sure that it won't be produced anymore. Even when I check the website, it's on discount for $165 from $219.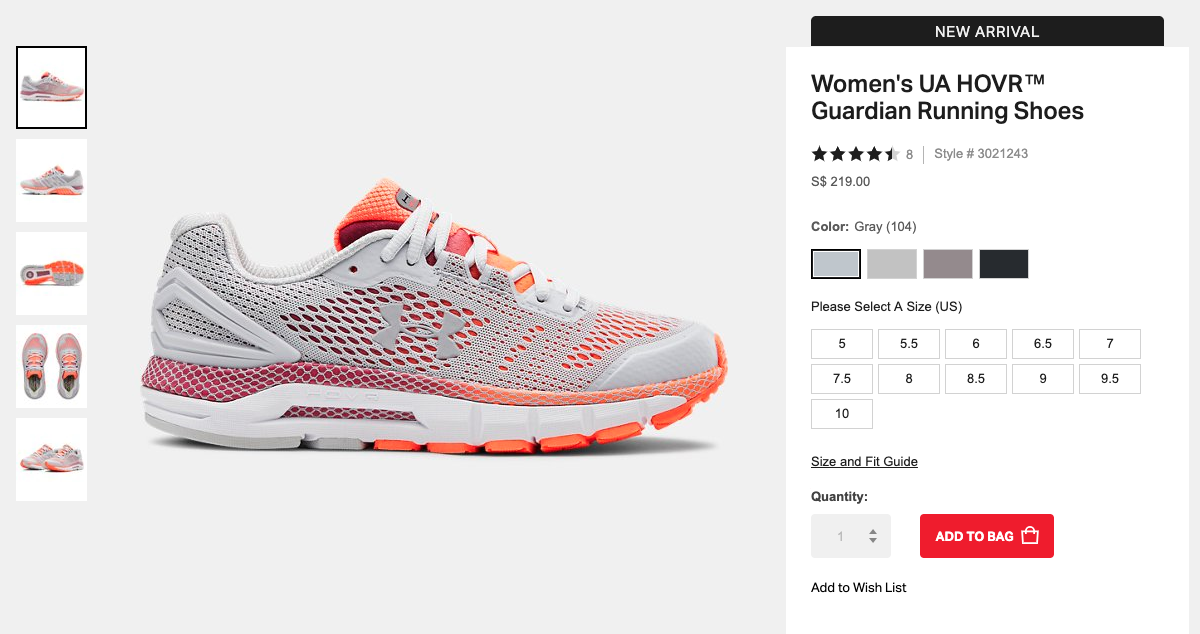 So without further due, at $115, I decided to bring it homeee!! It is soo easy to pair it with their Map my Run app.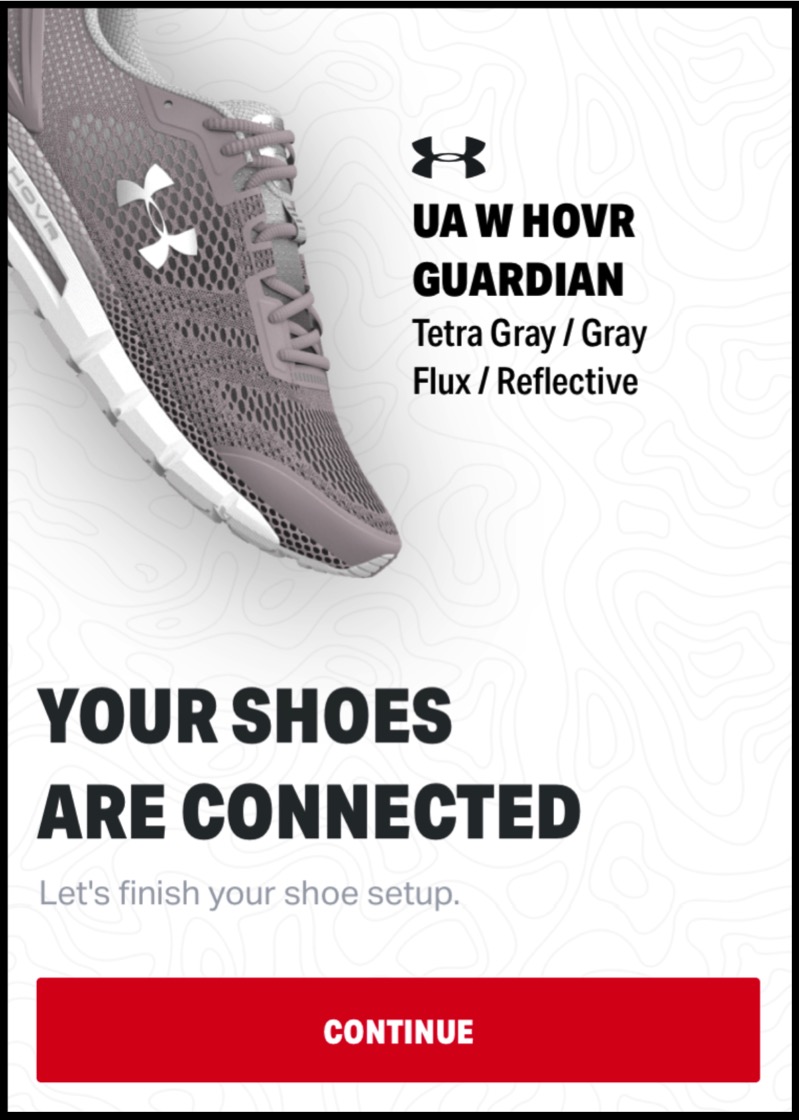 In conclusion, here's my new combo. Ampezzo and Guardian 🍻🥂👟!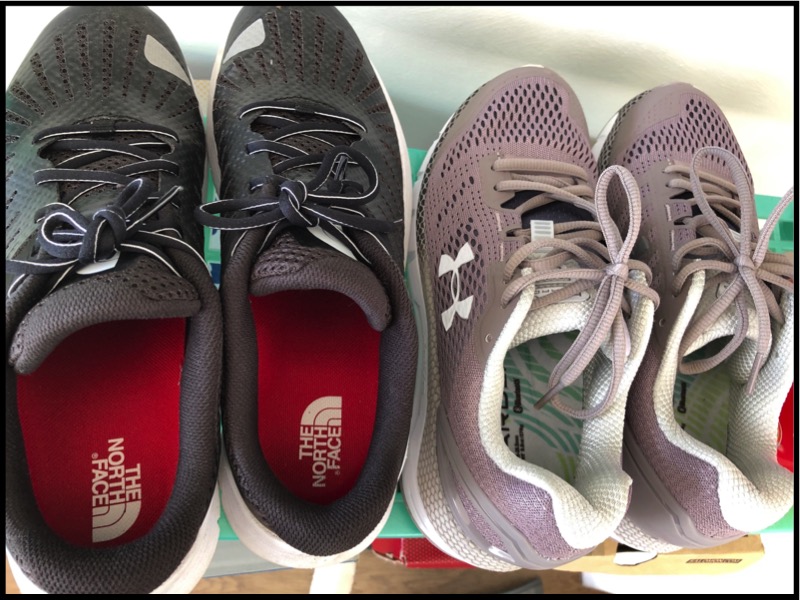 A little warning note on the blown rubber, outer sole of Hovr Guardian, I realise that the sole can be slippery on certain material such as those tactile floor on the road. Need to be wary of this.
The post doesn't end here. I would like to add other shoes that I still keep.. or throw away…
Weirdest shoes ever … Reebok Easy Tone. Somehow the outer sole is just really weird. You can see clearly from the picture below, the bumps on the sole causing uneasy feeling when you're walking. I have no idea why did I buy this pair. I donated this last month.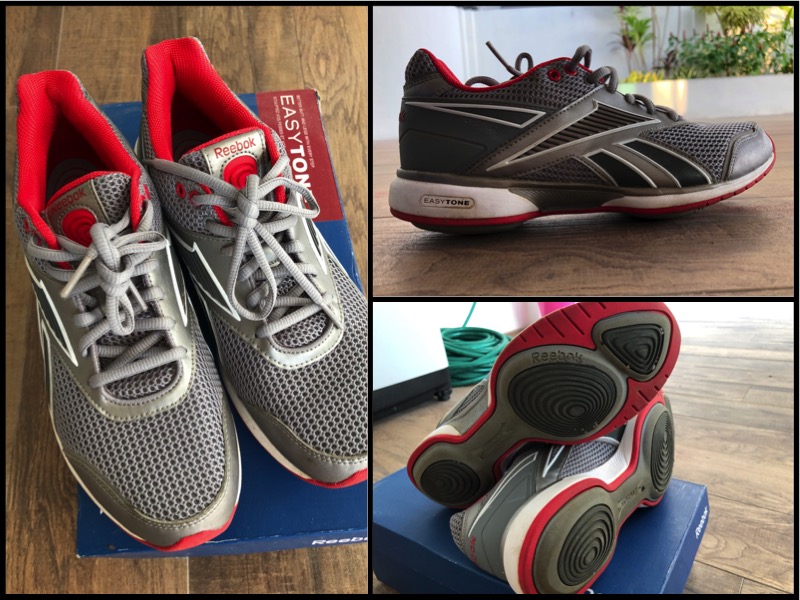 Asics Gel Lyte III, used only when I'm travelling to a slightly colder county because it's made of leather and warmer on the ankle part. It's one size bigger so I can wear a thick, warm socks. However, I don't feel there's any good cushioning, looks like this shoe is purely for style. Yep, I'm talking about this white polka dot, the material is made of jeans. The hardest part, is to clean the stains on the light brown color of leather 😕. I'm keeping this one.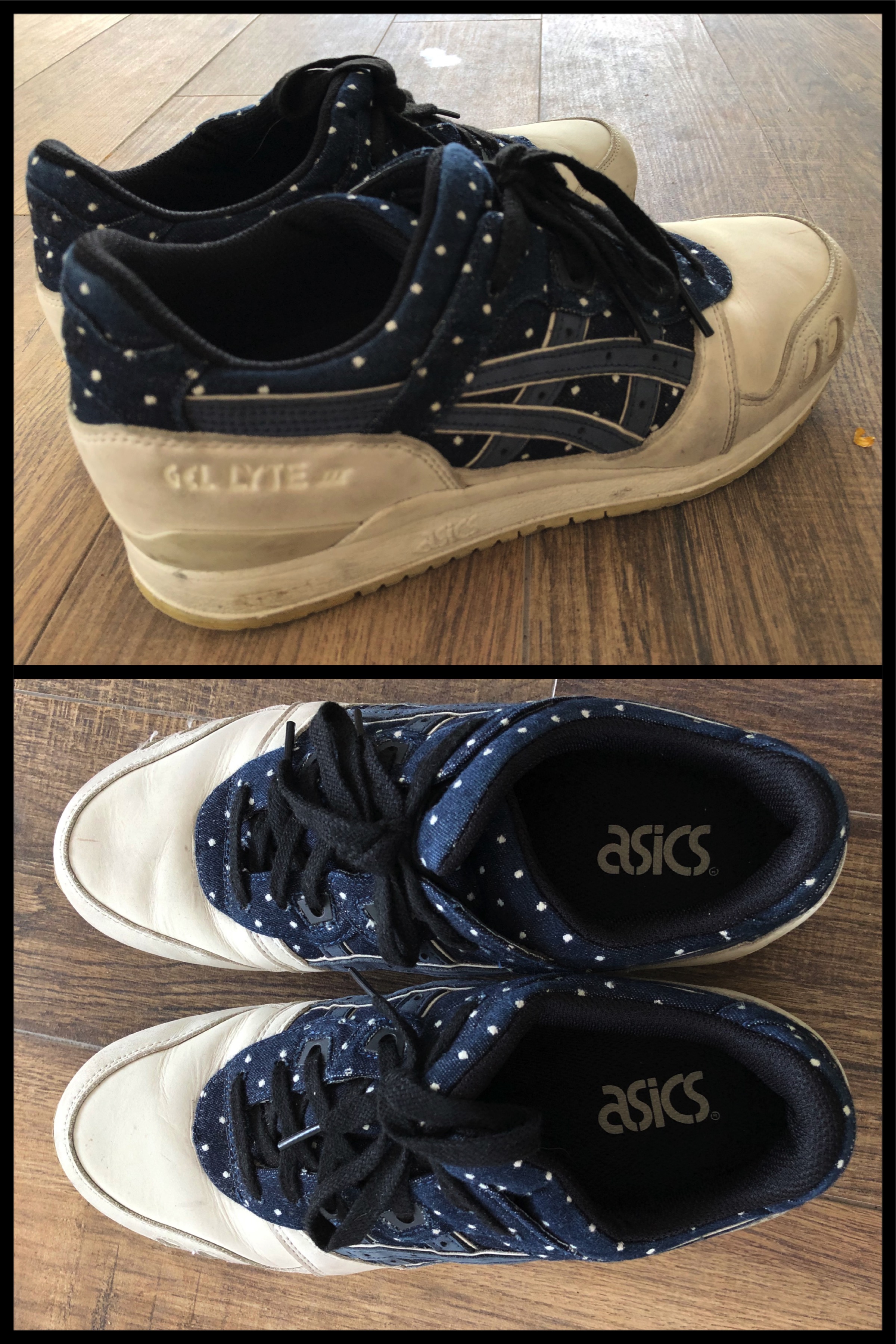 Timberland sneaker. This is really for woman, despite looking less feminine. I find that it's for flat feet however, I wear this whenever I have an assignment at memorial services.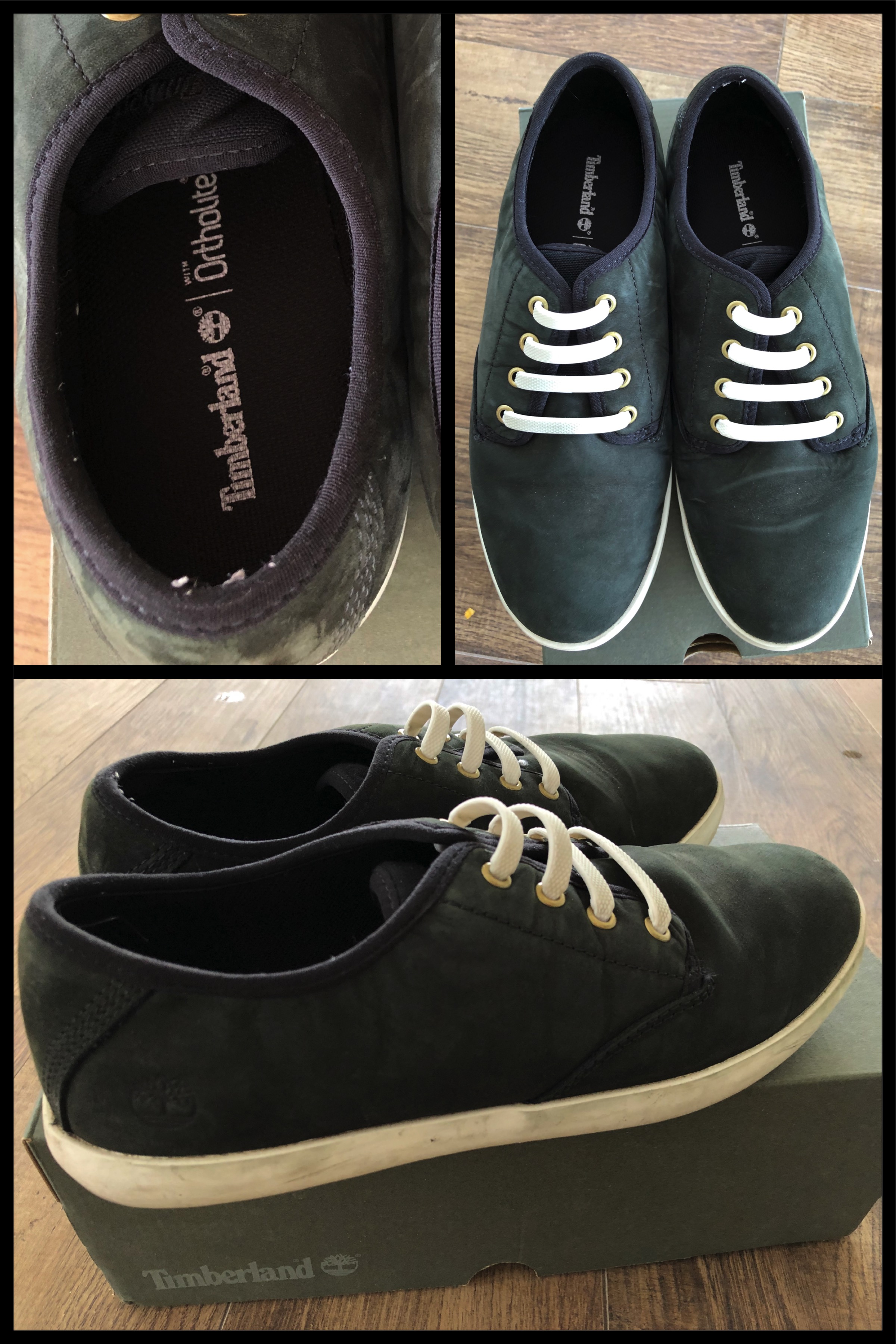 I also chance upon this orange, Salomon shoe which I don't know the exact model name. But I refrain from using it as it's insole is too firm. The salesperson told me that it's good for feet recovery after run but hmmm not true.
Do I wear high heels? Well, only on special occasion haha … I do have two not-so-high-heel shoes. One is this picture below, and I plan to donate this as it's too big. There's another one Hush Puppies' Body shoe heel, but it's at my home in Jakarta, so I couldn't take the picture.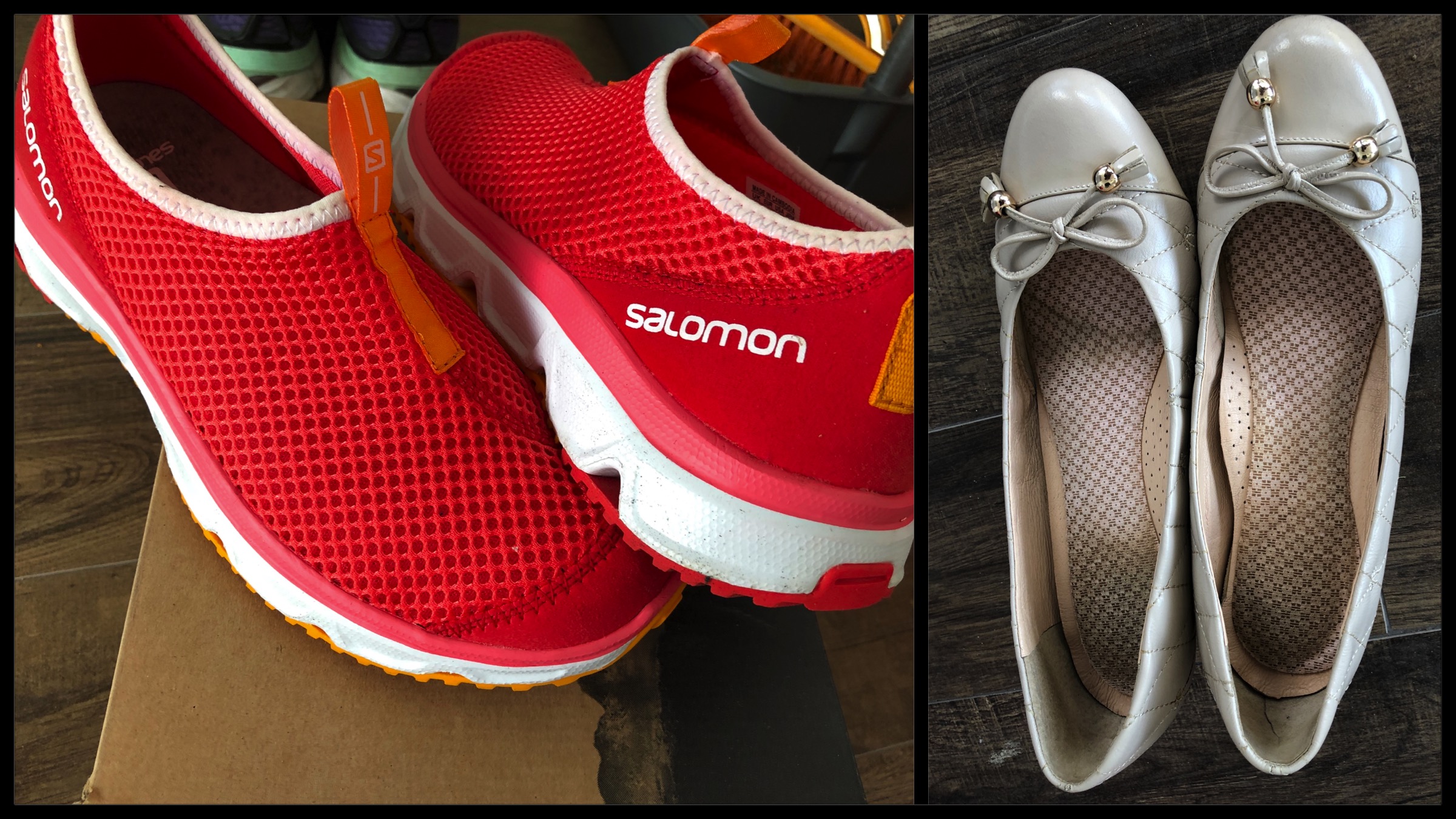 In closing, what makes me happy is that in the end, the patience and hassle to try a lot of different shoes are paid off. Next time, I shall make another post on socks 🧦, which is another interesting buddy for our shoes 😄.
What are your thoughts on Shoes? Feel free to share!
comments powered by

Disqus